Betina and Sean of SocTok have been amazing to work with. They have very different styles and complement each other well. In particular, they took the time to understand what I was looking for and created a plan that they felt was appropriate to my style, personality, and business. I would highly recommend them to anyone who would like to learn more about social media or take your understanding to the next level."

—Dr. Jamie Brooks, Owner, Brooks Dental Studio
---
Designed for all experience levels, SocTok Training either can guide you through the basic Facebook, Twitter and LinkedIn services for the first time, or coach your Facebook-fluent employees on creating even more effective content. Classes include PowerPoint presentations, demonstrations, Q&A sessions, handouts, and homework so you leave with confidence and an action plan.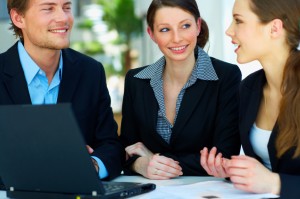 Class Sizes
SocTok can deliver both a) small classes (up to eight students) with hands-on support and b) large classes (with nine or more students). We show you how to get results from Facebook, Twitter, and social media apps. Basic and advanced classes may be taken singly or together. Prices vary.
Fundamental Social Media Skills
Learn the foundational tools, concepts and etiquette of Facebook and Twitter. Your lesson plan can cover:
Optimizing Facebook and Twitter accounts (teachers can help you create accounts)
Mastering the essential functions of Facebook and Twitter
Employing free social media apps
Scheduling posts
Collecting content your followers value
Attracting and engaging followers
Practicing conventions of social media courtesy
Social Media Advanced
After learning fundamental social media skills, learn advanced strategies for implementing them:
Best practices in gauging and reporting social media's impact for you
Complementing your existing community with social media
Integrating social media into Websites and e-mail
Optimizing your News Feed (a crucial and overlooked strategy)
Strategies and programs for efficiently managing social networks
Understanding mobile social media
Preparing for future trends in social media
Things to Consider Regarding Training
Brilliant social media campaigns are typically facilitated by the people who know your organization best: you or your staff. Our individual or group training sessions will help you master the tools that convert visitors into followers – and, eventually turn followers into potential clients.
We assign homework and follow-up to make sure you are comfortably applying your new skills towards best possible results.
If you wish, we will evaluate your progress at regular intervals, for up to 90 days after training. Social media, after all, produces more results over time. It is important that you get the support and feedback you need as your practice evolves.
Our success is contingent on yours, so you can trust we give you the best possible advice.